Mail and fulfilment house P&P Mailing and Distribution has invested in its first colour digital machine, with an investment of just shy of £400,000.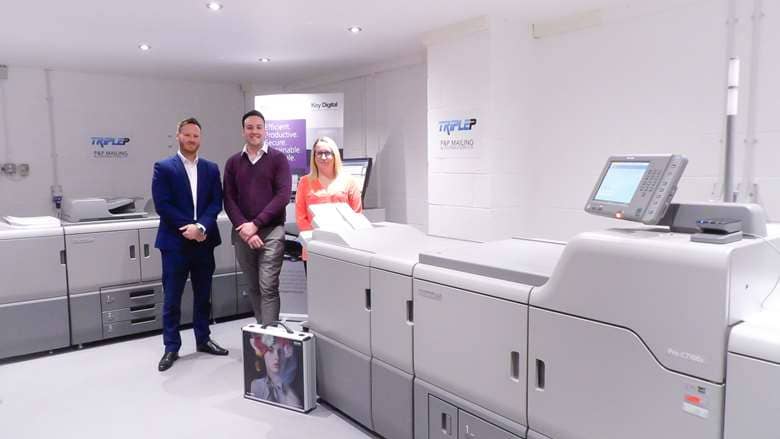 The Stockport-based outfit invested in a five-colour Ricoh Pro C7100x, along with a new Ricoh Pro 8100 mono and a raft of new finishing kit. It also constructed a dedicated print suite to house the new kit, which all came in at the end of last year. Both Ricoh machines were supplied by Ricoh reseller Key Digital, with total investment at around £360,000.
P&P managing director Stewart Bowden said the investment, which he mulled over along with fellow managing directors Kate Kirkland and James Atkinson for around 18 months prior to purchase, had been a "big change" for the business. The trio considered machines from a number of other manufacturers.
"We've never done digital before so it was a slow learning process at first to get our head around it and ensure our clients know what we are doing and why we are doing it. We do a lot of work for printers anyway and we didn't want them to think we were stepping on anyone's toes," said Bowden.
The Ricoh 7100 has moved P&P into new markets, meaning the 16-staff family-run outfit can print specialist mailings, business cards, posters, and take advantage of its banner tray feature in order to print larger items.
Bowden, who has been with P&P for three years, added that its white ink and spot UV capabilities had been selling well to customers and lent greater opportunity to personalisation. The capabilities are allowing P&P to keep more work in-house that was previously being outsourced to digital printers.
"It seemed the natural route to expand for a mail house and fulfilment company. With this printer we can do a lot of other things and offer customers really specialist print work," said Bowden.
The Ricoh 7100 prints at maximum speeds of up to 90ppm at a maximum resolution of 1,200×4,800dpi. It also offers support for textured media, envelopes, cling film and transparent media, taking a maximum sheet size at a width of 700mm.
The 95-ppm Ricoh 8100 comes with in-built Fiery server and comes in as an addition to P & P's mono fleet, of which there is also a Ricoh Pro 907. New finishing kit included a folder, creaser, guillotine, paper drills and laminator.
Founded in 1988, P&P operates from its one Stockport facility and provides a variety of mailing and other print services. It is also ISO 9001 and ISO 27001 certified.
Original source: https://www.printweek.com/news/article/p-p-goes-digital-with-ricoh-spend