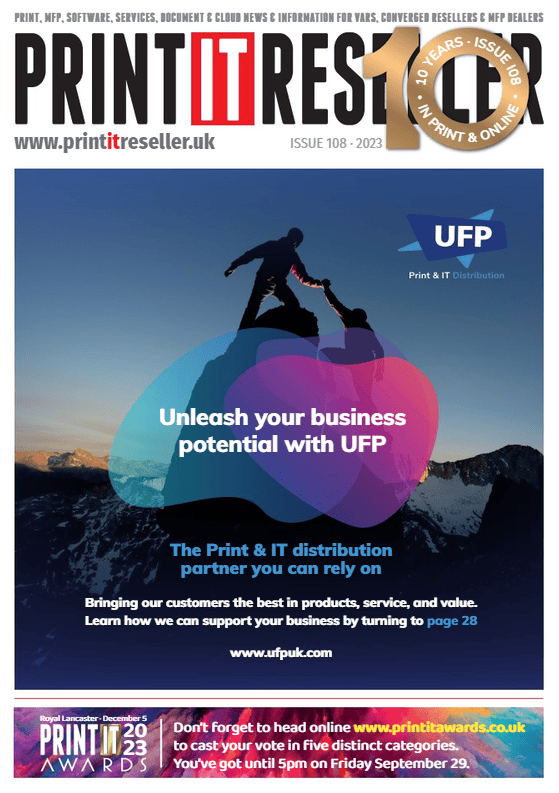 Today, work is what you do, rather than somewhere you go. Here, PrintIT Reseller invites key industry vendors to comment on how technology can enable and support hybrid working models and digital workplaces.
PrintIT Reseller: Which technologies are essential to support a primarily digital workplace and hybrid workforce?
James Overton, SOS Systems: Director, Capture and distribution technologies are vital and enable the scraping of data from electronic or paper based forms, to then be sent into other systems. Cloud-based repositories for agile working and PDF editing and e-signature solutions enable staff to amend documents on the move, sign contracts or approve documents and store them safely and securely.
Chris Bates, Business Unit Manager – The Print and Supplies, UK, TD SYNNEX: whole IT infrastructure has to be seen as a single entity – it does not really work without all its component parts. A server or app instance deployed in a cloud is no use without the connectivity and network infrastructure that enable client devices to connect to it and use the app. Without any one of those elements, nothing works. Equally, when users need to print, scan or copy something, they need to have devices to hand. Print is a component part of that whole infrastructure and it's still needed to support processes and as an aid in everyday productivity.
Rory Gallagher, Director of Workspace There is no one-size Services, Vision: fits-all approach to transitioning an organisation from paper to digital. To that end we take a holistic view of our clients to understand and identify the most effective approach tailored to their needs. We have designed our software portfolio to be as flexible as possible with a mixture of zero and low code technologies to allow us to quickly adapt and scale to our clients' needs. We also have the advantage of in-house developed business process automation software with our own developer resources to allow us to respond dynamically to our clients requirements, doing so strategically to ensure that any development work will benefit our wider client base, not just a single use case.
Richard Hall, Solutions Manager, UTAX: Within the print industry, essential technologies include rules-based document management services like FileStream, which ensure documents will end up in the right location. Security measures are also vital for the physical device, so only authorised personnel can print documents sent to a device. At UTAX, we believe it is also essential to have a reliable fleet management solution so that device issues can be fixed remotely immediately to reduce downtime.
Arwel Griffiths, Managing Director, Ar Graff Cymru: I believe that being able to offer a very broad range of services and platforms is crucial in supporting digital workplaces.
Managed print services suppliers have to have knowledge of cloud services, IT support, mobile printing and document security. By combining these essential technologies with managed print services, organisations can create a digital workplace that enhances productivity, collaboration, and streamlined document management while making the most of their print infrastructure and reducing costs.
John Green, Managing Director, Commerce Business Systems: Offering full end-to-end services has to be the way forward in supporting a digital workplace. By offering a range of services including cloud services, project management tools, VOIP telecoms, cybersecurity systems, remote support, print management and workflow automation, suppliers are prepared to handle any issues customers may have as they make their transition to digital and to be ready for the advances in workplace printing systems that are now integrated into the very heart of business networks.
By offering our full support, organisations can create a digital workplace that enhances productivity, collaboration, and streamlined document management while making the most of their print infrastructure and reducing costs.
Richard King, Channel Partner Manager The backbone (UK & Nordics), iTS: infrastructure has moved on greatly over the last ten years with super-fast and reliable VPNs and cloud services. These are a must have in order to support and host the ever-growing range of SaaS solutions that are now critical in the new digital workplace.
Jon Palin, Service Director, Elmdale Group: The success of supporting a primarily digital workplace and workforce relies on a seamless integration between various IT systems and the power to control whatever is connected to a company's network. A well-designed print management and IT infrastructure can help convert paper documents into digital formats, making them easily searchable, accessible, and shareable, which enhances collaboration and ensures that remote and office based employees have access to the same digital tools, applications, and information. Compatibility across mobile devices, cloud-based storage, and centralised document folders enable easy collaboration and data sharing.
What is more, print and IT support teams play a vital role in providing help, and troubleshooting technical issues to ensure a smooth work experience for all employees.
Mark Ash, CRO, Konica Minolta: The digital workplace is all about agility and enabling the workforce to work smarter, rather than just harder. Since the widespread adoption of hybrid working by many organisations, the agility of technology has become an essential rather than just a preferred choice. A crucial element of the digital workforce is automated digital document and workflow management, which ensures that all the data is fully collated, safely stored, and securely and effectively shared with the authorised team members that require it, wherever and whenever they need it.
Equally, collaboration and communications platforms such as Microsoft Teams are another essential technology, ensuring that all the organisation's team members can effectively work together and share documents, as well as chat or hold virtual meetings, all through one central portal. This enables hybrid workers (be they in the workplace, at home, or somewhere else remotely) to interact and collaborate as a team, just as effectively as being in the same room together.
Business intelligence and data analytics are a valuable insight that can be harvested from the use of automated digital workplace systems. With data being automatically recorded and analysed it is much easier to get an accurate update on business performance, as well as that of employees/teams and customers, to mine the insights for course correction or strategic planning.
It also goes without saying that cybersecurity is the essential wrapper for any digital workplace. Without the right protections in place all your other efforts can quickly become redundant. With the right cloud-based applications cybersecurity is assured and permanently up to date, which is another excellent reason why digital transformation should be a primary goal for modern organisations that want to thrive (rather than just survive) in these challenging times.
Arjan Paulussen, Managing Director, Western Europe and English-Speaking Cloud-based Africa, Lexmark: management systems like the Lexmark Cloud Fleet Management platform which enables centralised storage, collaboration, and access to data from anywhere, which helps facilitate remote work and streamlined workflows.
Also printing solutions which allow employees to print from their mobile devices or wirelessly connect to printers, accommodating the flexibility and mobility required in a digital workplace and data security and compliance solutions. With sensitive information being accessed and shared digitally, technologies that ensure data security, encryption, and compliance with privacy regulations are critical.
Simon Hill, Managing Director – EMEA : In a digital workplace, & APAC, Vasion certain technologies are indispensable. Here's a glimpse at the key players:
Cloud computing: The ability to access applications, data, and collaboration tools securely from anywhere, anytime, with the flexibility and scalability that cloud computing offers is crucial.
Collaboration tools: Being able to connect and collaborate effortlessly with video conferencing, instant messaging, and team collaboration platforms is already standard practice and will remain.
Cybersecurity solutions: Fortifying your digital workplace with robust measures, including firewalls, antivirus software, multi-factor authentication, encryption, secure web gateways, and regular security audits is best practice and we will see more people moving to a zero trust standard.
Document and content management systems: Efficiently organising, storing, and retrieving information with user friendly systems that offer version control, collaboration features, data security, and compliance is significantly more important in a cloud-first, hybrid working world.
Workflow automation tools: Enhancing productivity and accuracy by automating repetitive tasks, integrating systems, and orchestrating workflows has been and will be a priority for the foreseeable future.
Data analytics and business intelligence: Finally, you will always want to be able to gain valuable insights from data analysis to drive informed decision-making, identify trends, and optimise operations.
Richard Stewart, Workspace Portfolio Digital tools Marketing Manager, Canon: are now an essential part of running a business, allowing technology to be accessed from any location and helping workforces to collaborate effectively whether they are in the office, at home or another location.
Yet, our research has found that a disparity exists between businesses' digitisation aspiration and the everyday experience of employees. While over two-thirds (68 per cent) of IT decision makers believe that the company they work for is largely digital, 41 per cent of workers are still reporting issues with accessing documents. It seems that there is a clear disconnect between how far businesses think they have come in terms of digitisation, and how it is working in practice.
In order to overcome this, businesses should consider prioritising solutions which are able to bridge the gap between digital and physical workflows – helping to create a seamless user experience for employees, regardless of where they are working.
Combining print and information management delivers a technology ecosystem to support a digital transformation journey. Cloud-based technology plays a crucial role in this, offering businesses flexibility and scalability, combined with increased security and reduced costs. Cloud enabled digital workflow solutions will allow users to print from anywhere, while also ensuring information is tracked and stored securely.
Once a business has built its cloud offering, it is important for it to invest in staff training – thereby ensuring its employees can confidently navigate their digital infrastructure and meet their customers' current and future needs.
Graham Foxwell, Product Marketing Lead, Kyocera Document Solutions UK: Moving software and services into the cloud is one of the top investment priorities in the coming year, enabling businesses to be more agile in the provision of their services.
One of the most desired but challenging areas, has been the provision of cloud-based print and scan technology, along with secure access to documents and content to a more and more distributed workforce. Cloud-based printing along with secure content/document management is essential for companies that wish to move to a more agile way of working.
Andy Ratcliffe, Managing Director, Key Digital: Security remains a key driver for the C-suite when considering moving to or changing to digital technologies. This is especially important with workplaces opening up to hot-desking and remote working. Organisations need to ensure that data can be accessible to all working styles while ensuring world class data security at the same time.
The growing role of mobile smart devices to perform business functions is driving the need for back office automation. Unionised technologies that perform the legwork in the background requiring simple inputs from forms, digital documents or scanned hardcopies are very popular with our clients.
Similarly, the decline in long term physical document storage is also presenting opportunities. OCR, standardised documents and forms automatically pushing data into ECMs, accounting systems and other digital platforms creates harmony between digital systems and workers access to information.
Nigel Eaton, General Manager, MyQ UK, Ireland & Nordic Region: The pandemic showed us the key technologies and the direction we needed to take. Anything that was designed to be used only in the office became useless once it was impossible to get into the office. Many companies were subsequently saved by the online world, which accelerated the transition of on-premise services to the cloud. In the printing industry, it no longer mattered who was printing or scanning how much, but whether they could work or not. And it was during this period that MyQ launched a brand new cloud-based product – Digital Workplace Assistant, to make it easier for businesses and individuals to work and transition from the traditional workplace to a more modern, efficient and secure version of it. And to address the new megatrends of resilience and mobility.
Greig Millar, Chief Revenue Officer, Brother UK: Kofax's ControlSuite and Printix, which we provide through our solutions, are great examples. By automatically converting scanned pages into text, they provide the opportunity for users to create and edit PDFs online, which is far more efficient than overwriting and re-scanning physical documents.
This type of change can sometimes create small sticking points for businesses, particularly when it comes to integrating tech. But new hardware is bringing enhanced compatibility. Our ADS4 desktop document scanners, for example, are fully compatible with Kofax's software, which means firms can hit the ground running in digitising their documents with scanners that are speedy and produce clear copies. Pairing the right hardware with the right software is fertile ground for resellers looking to better support their customers.
PrintIT Reseller: How are you helping customers to transform legacy infrastructure and analogue processes so they can become more agile and resilient in today's digital first world?
Miguel Rodriguez, Managing Director, SYNAXON Hub: Digital transformation continues to be a good opportunity for all partners. But digitalisation also changes the kinds of services that the customer needs – and partners must be capable of supporting customers in making the transition.
In terms of the essential technologies required to support the digital workplace, the managed workspace is absolutely crucial to effective transformation, as it provides the means by which users can access all the digital resources they need – including print – to carry out their day-to-day roles. Removing the burden of managing that from the customer is one way in which partners can pave the way for digitalisation, and it's something that they can easily do with SYNAXON's Managed Workplace, which offers everything needed to efficiently deploy and manage complete desktop set-ups.
Furthermore, actually delivering transformative solutions requires significant resources, and not all partners will possess the expertise or capability to manage transformation projects. We can help these partners meet the needs of their customers with our Project Support service. We provide an end-to end service, from initial scoping through to implementation and support, which means partners can take opportunities without having to recruit and retain highly skilled technical specialists.
James Overton: The migration to cloud has been fast and consistent, but there are still a number of businesses with on-premise infrastructure. Many of these businesses see cloud as a priority but haven't quite got there in terms of document storage or print infrastructure. Moving these services to cloud enables them to reduce costs on licensing and support and improve performance and security. By offering secure cloud printing, cloud repository and workflow or digital cloud based e-forms and e-signature technologies, we can align our software offering to the customer's technology roadmap which makes us more valuable as a trusted partner.
Chris Bates: We're supporting partners by providing them with the enablement resources and tools to deliver the solutions and services their end-user customers need as they digitally transform. We have a number of programmes that provide training and developmental support for partners on specific technologies and growth areas, such as cloud and cybersecurity.
Our professional services team can provide end-to-end support for the entire lifecycle – from initial consultancy and design through to installation and support. For the print element of infrastructure, our OpenMPS managed print service provides onsite cover and automated replenishment of ink and toner cartridges, and we can also offer printer installation and maintenance cover.
By making use of these options, partners can allow us take care of essential print-related services while they focus on building and delivering transformational solutions for their customers. They are particularly useful and important for SMB partners, who won't always have the resources to develop and provide services of their own.
Rory Gallagher: There has been a monumental shift to the cloud in recent years, in the early stages private cloud but a significant percentage of our deployments these days are using multi tenant. Along with the introduction of more capable cloud-native applications from both new and existing software vendors, our clients are seeing the advantage of removing the reliance on legacy infrastructure and the limitations it has created for so long. Empowering agile working whilst simultaneously creating more secure and resilient workflows for both print and document/ data management.
Richard Hall: We take a holistic approach to print management, whenever a new case is presented to us we consider all aspects of print management to ensure that workflows are as simple as possible, and costs are as low as possible. More often than not we find that the number of printing devices on a site can be reduced if functionality is improved and software solutions are introduced to make processes secure and simple for the user.
Arwel Griffiths: We have been expanding our operation so that we can turn our hand to anything our customers require. There is still a certain amount of fear among traditional businesses, about making the leap of faith to the next level of digital technology and it's vital that we, and others like us, are ready to step in and reassure them by delivering what we promise.
John Green: At CBS, as well as expanding our managed print and workflow systems, we have been investing in developing our specialists' expertise and expanding the business to facilitate the addition of digital workplace support services including cloud hosting, IT and data security, mobile printing, telephony and VoIP systems, and more recently, we added an online office supplies store, because we want to make it easy for our customers to access all their business and IT services from one location.
It's not just large companies who need this type of support, it is all types and sizes of businesses and organisations whose day-to-day operations are connected digitally and it's here to stay so suppliers like us must be match-fit and ready for whatever is coming.
Richard King: Here at iTS we pride ourselves on our carefully selected connected product portfolio. From digitisation features in PaperCut MF and PaperCut Hive, to powerful elite artificial intelligence in Umango, through to Willow360 our newly released in house developed cloud-based workflow management solution.
Jon Palin: Elmdale Maintenance is a service-led office and business solutions provider, so, first and foremost we provide our customers with managed print solutions with a comprehensive strategy to print management, which helps customers to plan ahead and think about the bigger picture.
This is where Elmdale IT Services plays its part, providing IT support and maintenance, integrating cloud systems, providing VoIP telecoms with CRM apps and collaboration tools, such as browser-based video conferencing and preparing customers for the big switch off in 2025. IT has become an integral part of every company's landscape and in order to maximise this investment, servers, networks, PCs, printers and peripherals are required to function continuously. A well-maintained operation ensures that user downtime is limited, and staff productivity is maximised.
Mark Ash: At Konica Minolta we provide a wide range of digital solutions that are designed to power the digital transformation of our customers. To help customers understand their current position within their digital journey as a starting point, we offer the free DX360° digital maturity assessment which gives an unbiased review and expert analysis of what has been achieved and what opportunities there are to improve and broaden digital transformation.
As a simple and cost-effective but powerful way to speed up the process of digital transformation we offer the Workplace Pure platform, a marketplace of services including document translation, document conversion, cloud print and direct upload to cloud repositories – all from a single trusted source. This is particularly well suited to helping our SMB customers evolve their legacy infrastructure and analogue processes into a modern digital cloud first approach, without the need to install and manage new hardware and software.
We also provide more direct and bespoke help through our Smart Workflow Services, which map, analyse and help an organisation understand what's behind its paper-based workflows and propose solutions to digitise and optimise these workflows. We employ bespoke intelligent software to capture and categorise print data to allow the identification and subsequent elimination of inefficient paper-based workflows, exposing previously invisible paper-centric processes. This not only optimises workflows and saves time/ money through more efficient processes, but it also helps with sustainability (reducing the CO2 production, pollution and water use from production of paper and electronics) and reduces the costs of paper/toner and potential the numbers of printers required.
Arjan Paulussen: We have the advantage of going through the digital transformation process within our own business so we can bring those insights and learnings to our customers and channel partners.
The transformation journey we've been on as a company has helped us break down internal silos and make data available across the business. And by analysing our own data, we've been able to identify opportunities to advance and innovate across our operations, product and service delivery.
One example of this is the work we are doing within IoT. Today the average Lexmark printer is equipped with more than 120 sensors dedicated to collecting data. This data is gathered from the millions of Lexmark devices under management worldwide and stored in the proprietary Lexmark IoT Hub – a single, globally managed print services platform that feeds intelligence to Lexmark's R&D and customer service functions, helping us build better products and solutions, and better serve our customers.
As I mentioned, we've also invested heavily in our cloud solutions portfolio in recent years. One recent innovation in this area, and very soon available in Europe, includes our Cloud Scan Management tool which provides support for scanning to Microsoft OneDrive and SharePoint. With Lexmark CSM, users gain the ability to scan files directly into a folder to be shared with remote employees. And organisations can achieve alignment between online and paper-based forms for those scanned and available through a digital portal.
Simon Hill: Vasion has a desire to lead in new technologies – we are always eager to break new ground. We have done it by moving print management to the cloud in 2016 as we knew the cloud was where digital transformation was moving key processes. PrinterLogic is a cloud native solution that eliminates legacy hardware. We also understood that we would need to bridge the old to the new, so PrinterLogic was designed and built to ensure legacy system integration would be simple and effective.
Moving forward, our Vasion product is looking to continue our innovative reputation by making digital transformation available to everyone. Organisations can now integrate capture, signature, workflow, and content management with a single SaaS solution. They can now deliver compliance, accountability, and scalability to the business with a simple to use solution that minimises solution development times and costs.
Vasion is revolutionising the way organisations undergo digital transformation, empowering them to optimise their processes, enhance security, and unlock the full potential of the digital age. With Vasion as a trusted partner, organisations can confidently navigate their digital journey and embrace the limitless possibilities of a fully digital future.
Richard Stewart: A key component to maintaining an agile and resilient digital workplace is ensuring employees have access to everything they need to perform their roles remotely. However, IT teams are still facing issues when digitising all their past paper documentation, with 41 per cent agreeing their company has found it difficult to deal with storing and archiving paper documents securely in this new environment. As a result, 37 per cent are having to visit the office to print, pick up or sign documents in person.
Yet this shouldn't be the case as today, employee satisfaction, productivity and skills retention, is often linked to their ability to access optimised workspace services, where users are able to seamlessly merge their physical and digital workflows.
While many businesses are looking to accelerate their digital transformation journeys, most still operate within hybrid – digital and paper-based – environments. This journey to digitisation is continuously driven by stringent information management and security regulations, mobility and process automation needs and by demand for faster adoption of cloud and managed services.
Canon's Digital Transformation Services can support a customer's journey by integrating paper and digital, using combined print and information management services delivered on-site, via the cloud or in a mixed environment.
Graham Foxwell: Kyocera has many years of experience and knowledge in the field of digital transformation. With ICT, unified communications, content solutions and the ability to print and scan via Kyocera's multifunctional printing devices, resellers can leverage the benefits inherent in their existing customers' fleets to enhance and extend their offering. This will enable businesses to transform legacy infrastructure and analogue processes into secure, agile, and resilient platforms and services, by providing the relevant consultancy and the services and infrastructure required.
Andy Ratcliffe: We've been working with a number of clients to develop process maps, starting with basic day to day tasks, then putting systems in place to automate workflows and repetitive tasks. We then expand to a macro view and explore where greater impacts can be made.
We've got dedicated in-house developers who are able to write custom programmes unique to each customer's requirements and integrate with existing systems that are integral to the way they run.
We find that this approach improves user adoption of new technologies rather than supplying 'out of the box' systems that are a bit rough round the edges and do not fulfil all client efficiency requirements.
Nigel Eaton: With our fully cloud based MyQ Roger app which can be downloaded from the AppStore or Google Play. With MyQ Roger, it's easy (and free) to scan a document with a mobile phone camera and, thanks to OCR technology, create a PDF of a comparable quality to an MFP. Users can also leverage self-defined advanced scanning workflows, and store and search captured documents in a variety of cloud-based repositories.
MyQ Roger can also be installed on a printer, enabling users to log in and access the same workflows they created on their mobile device, and print to any device from their smartphone, tablet or laptop without reliance on servers, VPNs, etc.
MyQ Roger is currently being tested to introduce print sharing, which we believe will fundamentally streamline the use of printers and address declining (and often unprofitable) print volumes. People and businesses will soon be able to pay to use a printer as conveniently as sharing a scooter.
Greig Millar: Naturally each business will require a tailored solution, so the partners with the biggest advantage will be those that know exactly where their customers are on their digital transformation journey. It will pay dividends to be experts in the spectrum of compatible products and services because that's where the benefits of digitalisation are delivered.
Steve Holmes, EMEA & America's Many Regional Director & GM, PaperCut: of PaperCut's customers have already migrated to the cloud. Whatever stage they're at on their cloud migration journey, we have solutions that help to support the move to print in the cloud, or hybrid working and hybrid print. For instance, PaperCut MF is well-known for being well suited to on-prem print management, but it is also able to operate in a cloud environment. This makes it suitable for private cloud environments, where it has been operating in a number of our customers' networks in this hybrid configuration for many years now.
PaperCut Hive takes a different approach. It uses cloud-based architecture and technology and features embedded software to track copying and scanning. We also support our customers as they work to take hard-copy documents and put them into more accessible and flexible digital formats. We make this process easy through solutions like OCR in the Cloud and Scan to Cloud.
synaxon-services.com/
www.sossystems.co.uk
www.techdata.com
https://visionplc.co.uk/
www.utax.co.uk
www.argraffcymru.com
commercebusinesssystems.co.uk/
www.its-group.com
https://elmdalemaintenance.co.uk/
www.konicaminolta.co.uk
www.lexmark.co.uk
www.printerlogic.com
www.canon.co.uk
www.kyoceradocumentsolutions.co.uk
www.key-digital.co.uk
www.myq-solution.com
www.brother.co.uk
www.papercut.com