According to Deloitte, the subscription business model has been accelerated by the COVID-19 pandemic. The firm's research found that eight out of 10 subscription-based companies are either maintaining or growing their subscriber base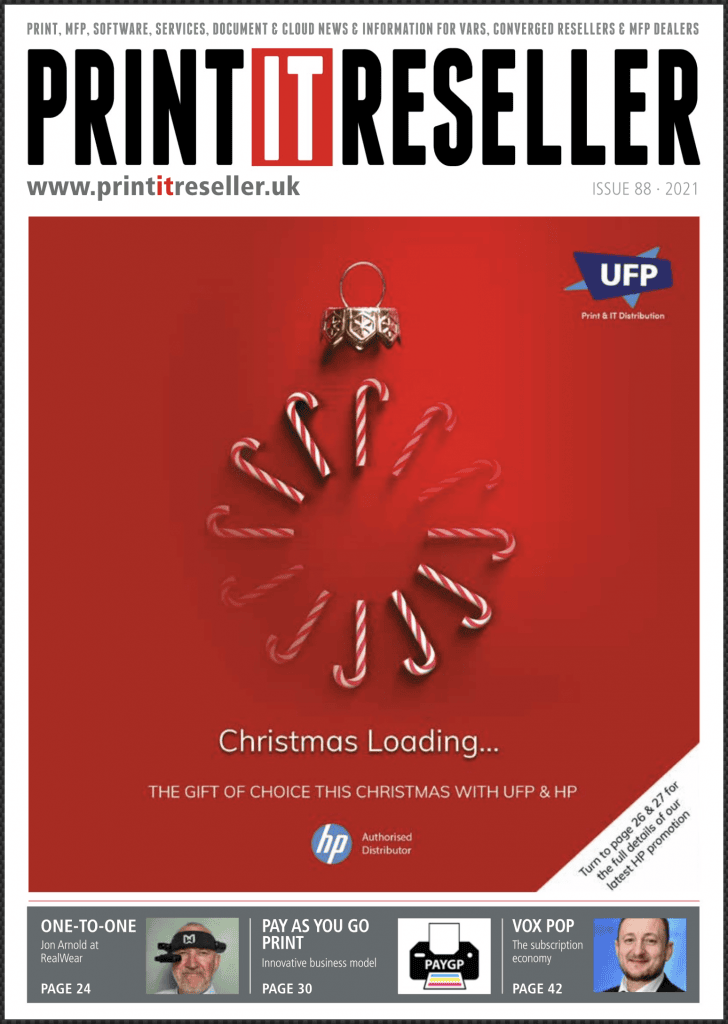 PrintIT Reseller: To what extent do you believe the desire to purchase 'everything-as-a-service' is impacting the traditional print market?
Mike Barron, Managing Director, SYNAXON UK:
"The move to as-a-service is having a profound and lasting impact on the entire IT sector. With print, we saw a surge in demand for devices being driven by WFH. That's been followed by a wave of interest in managed services, as businesses look to regulate the costs of home-based printing. That said, a lot of smaller businesses and home users will continue to manage print in the 'traditional' way, buying replacement cartridges and consumables as they are needed.
"While we will see more businesses adopting the as-a-service or managed approach to devices and consumables, it will be a gradual shift. There is certainly an opportunity here for any channel partners that can offer a cost-effective, as-a-service offering, or managed print proposition that is simple enough to attract SMBs and home users. Doing the former, will take a lot of resource and investment, but the latter has a lower barrier to entry, and I'd expect to see a lot of activity in this area over the next year or two.
"Print-as-a-service and managed print are areas SYNAXON UK will be watching with keen interest along with our MSP partners. If we can identify suitable service offerings, we'll be looking to partner with those providers and actively take them to SYNAXON UK partners."
Chris Bates, Business Unit Manager – Print & Supplies, Tech Data, UK & Ireland:
"As-a-service is clearly the direction in which everything is moving, and we've seen that accelerating over the past 18 months. In particular, we have seen significant growth in our tech-as-a-service offering, which allows partners to bundle hardware, software, and their own services together as an all-in-one, subscription offering. That is being used to finance upgrades to print estates – in education and the public sector as well as the commercial market.
"There is also a really good opportunity to provide a simple and effective way for partners to offer managed print services – and that's something we have addressed with our OpenMPS service. This is a simple managed print service that reseller partners can take to their customers right away – without any up-front investment.
"OpenMPS is a highly-automated process and extremely low-touch, both for the partner and end-user customers. It enables partners to start moving away from a low margin transactional model, towards more profitable, pay per-use subscription business. Supplies are re-ordered automatically and invoiced per delivery, but only when they are truly needed. Compared with conventional cost-per-page plans that often conceal excessive overcharge, OpenMPS can reduce hard costs by 25 per cent through the optimisation of supplies replenishment and by driving out unnecessary wastage, making it much more efficient, cost-effective and beneficial for everyone."
Andy Ratcliffe, Managing Director, Key Digital:
"The print and IT sectors traditionally operated on an on-premise model of supplying and servicing hardware or other peripherals. In recent years, these industries have been able to offer more IaaS, PaaS and SaaS solutions through applications and integrations with other third-party solutions as well as wider technology support services.
"At Key Digital, we like to predict and follow trends so that we can best support our customer base, and the desire to purchase everything-as-a-service (XaaS) is having a positive impact. Our customers are coming to us as a trusted supplier and asking for further support and expertise in other technological areas. Where we excel as a business is that we have always operated on SLAs, and that same support is still available on any number of deployments. "The main goal of XaaS is to give greater end-user empowerment, and we're able to offer that through bespoke, flexible solutions, whether that is a 'bolt-on' integration or a full managed services solution.
"A potential downside of the availability to purchase services in this way is when businesses and organisations are using these services but aren't being supported effectively. This often leads to them over paying and under-utilising what they have. We've seen this with services like Microsoft 365, where premium subscription packages are being used for only basic applications because they aren't being supported properly by their existing vendor.
"We've taken over license management in some cases to unlock full access to key tools that they have potentially been paying for twice, using other third-party applications that do the same job as what they have already.
"That's where our services can be really influential to an organisation and help support their business goals."
David Warrington, Client Services Director, Office Fox:
"The biggest impact here is making sure as an organisation we have flexible enough finance partners or internal resource to be able to fulfil the growing need for subscription and one-stop-shop style procurement.
"The concept however is a sound one, where clients are now looking as much to choose the company as much or more than the service they require. Rather than having to piecemeal an overall solution, it makes much more sense to find a partner that has the ability to provide all of the client needs."
Julian Broster, VP of Strategic Business Development, Apogee:
"Consumer behaviour has been evolving over the past five to ten years, and it's no secret the desire to purchase goods on a subscription-based model is on the rise.
"The shift from ownership models to XaaS so far has been gradual. As an innovative solutions business, we are monitoring this development and look forward to embracing the change, as we always have done in the past.
"We have been very transparent with our embrace of Apogee cloud-based offerings, such as our cloud print services, and forged strategic partnerships with tier 1 software providers to provide this service effectively. It is part of our key strategic directive and exemplifies how we constantly adapt our services and processes to match consumer needs and wants – rather than holding onto outdated models. I think it's the key to our success, and we will continue to deliver this."
Martin Roberts, Managing Director, Neuways:
"It's a great benefit to almost everyone involved – but that doesn't mean there aren't any negatives to be wary of. For the purchaser, it takes away a barrier to entry, which is great, because usually, in the first instance, when a business is faced with a project or activity with a large price tag and the attached risk that comes with that, decision-makers are less likely to take that step for their business.
"The subscription model, with its flexible situation, reduces the barriers to businesses to carry out the activity. This is a much lower risk for a business, as it gives them an opportunity to try something new, something that could greatly benefit their business without shelling out a huge upfront cost.
"On the flipside, businesses need to be careful to not be sucked into the subscription model too much, by trying new things out on the cheap. As it's such a simple process to carry out, some companies won't do their due diligence as much and take on a new subscription without fully understanding it because it's cheap to 'have a go' at.
"With the subscription model, there can be huge benefits, but the downside is employees in a business going off in different directions using different services, without taking a step back and taking in a wider review of the model.
"To sum up: subscription-based services provide a lower barrier to entry, with less scrutiny required, but, in reality, you might not get the full benefits envisaged and might have lots of people doing similar things. When thinking of an overarching strategy, it is important to consider where these subscription models fit within."
Mark Bailey, Managing Director, EBM Managed Services:
"The traditional is changing for the better. The transactional model of print and IT devices has been fading for years. Even before COVID-19 hit, the vast majority of our and IT alongside a support agreement. This gives customers certain tax breaks, frees up their cash flow and means that they can upgrade with ease, as well as ensuring that they can get reliable repairs/services, are in a better position to scale their requirements, and can reap the benefits of advancing technologies, including cloud solutions.
"For sellers, it gives us the opportunity to grow relationships and retain customers as their leases come up for renewal. As it applies to print and IT, everything-as-a service actually allows for a more vibrant market with greater opportunity to attract and retain business."
James Pittick, Director of B2B Indirect Sales, Canon UK & Ireland:
"The adoption of as-a-service solutions has become a crucial component to the shift towards a subscription economy across the industry. TV on demand services have reshaped the consumer world and we are increasingly seeing a wider range of consumer businesses, from automotive dealers to coffee chains, offering some form of subscription model.
"It has been suggested and now proven that the multi-tenant, cloud based architecture of as-a-service provides businesses with a flexible and accessible work strategy that optimises the hybrid work environment. Scalable, easily procured user models hosted in the cloud and provided as a subscription service, are gaining particular popularity as they support the proliferation of agile working strategies."
Stuart Sykes, Managing Director, Sharp UK:
"We are not seeing the desire to purchase on a subscription basis reach all sectors of the economy and so the pull from clients is relatively small. For those print and IT resellers who are built upon recurring revenue streams, the subscription model opens up significant opportunity to turn those one-hit revenues into longer term recurring and stable annuities. So it is up to resellers to be creative, invest in the long-term and proactively offer clients something new."
Andy Johnson, Solutions and Alliance Partner Development, Brother UK:
"Businesses are turning to technology to scale-up capacity and build resilience, but these investments are having to be balanced against the inflationary cost pressures that many firms are facing.
"Making costs more predictable where possible can certainly help. In fact, our research found that almost half (46 per cent) of IT leads are prioritising it, and this is driving demand for software as-a-service (SaaS) models.
"In print, this is translating into a growing appetite for managed print services and this will only continue as more businesses settle into permanent hybrid working models."
Dave Prezzano, UK & Ireland Managing Director, HP Inc.:
"The increased demand for everything-as-a-service has opened up a growth opportunity for companies to revaluate and reinvent their business model. The pandemic has had a material impact on the future of work, accelerating digital transformation, cloud adoption and the shift to as-a-service. The overarching signal to the market is the expectation that the print and IT sector provides flexible solutions.
"As companies transition to hybrid work environments we're seeing a rapid shift to cloud services, and our sector should embrace everything-as-a-service. Companies that prioritise and invest in hybrid work models will be able to adapt to changing business needs and employee expectations quickly and seamlessly, thereby facilitating services to customers that simplifies management, improves productivity and enables flexibility to scale. HP recently announced HP Managed Print Flex, a service which offers channel partners an opportunity to grow predictable print revenue and profit, without complexity and risk through bringing a managed print services subscription plan onto the cloud. With HP Managed Print Flex our customers and partners can arm their hybrid workers with the essential and secure print technology they need to be productive."
PrintIT Reseller: Consuming software-as-a-service has without doubt become the norm, but do you believe that the hardware-as-a-service (HaaS) model, will become as mainstream as its software equivalent?
Mike Barron: "It's interesting that Deloitte's figures said 80 per cent of firms offering subscription services are 'either maintaining OR growing their subscriber base'. It would be interesting to see how many are just standing still and how many are actually growing, and at what rate overall. I suspect that, rather than being uniformly accelerated by the pandemic, growth has been variable due to businesses re-allocating their IT spending and re-thinking their approach. As they start executing on those revised plans, I'd expect to see a further acceleration to as-a-service business and more hardware being purchased through HaaS options. But, as with the shift to print-as-a-service and managed print, I'd expect it to be faster and more pronounced in larger organisations and more gradual in the SMB market."
Chris Bates: "Attitudes are undoubtedly changing – that's evidenced in the huge year-on-year growth we have seen with tech-as-a-service. I doubt we will ever see the day where no hardware is purchased outright, but acquiring and consuming print as a service is definitely becoming more popular.
"Sustainability is an important and related trend here. Print manufacturers are now doing much more to improve the carbon footprint of their devices and though our TD Renew service, Tech Data is already offering verifiable recycling or refurbishment of old equipment when it is traded-in for new hardware. For many customers, the ideas of, first, being able to purchase products on a subscription basis, and secondly, being sure they will be re-used or disposed of responsibly at the end of their lifecycle, sit very well together."
Andy Ratcliffe: "Traditionally, most print and IT businesses would provide their services according to SLAs. However, we have been able to incorporate the SaaS and HaaS models into our business to suit the changing needs of our customers.
"Our services are adapted to dynamic companies, fast-growing organisations and those with ever changing working locations to provide them with greater flexibility.
"What this means is that customers have less initial capital outlay compared to buying outright, which allows for easier budgeting while freeing up capital expenses and making them more operational.
"Where the industry is seeing an ever increasing shift towards HaaS is with servers and networks, with customers favouring cloud hosting services as opposed to onsite server hardware. This is more effective in disaster recovery cases, distributed workforces and, again, means less capital outlay.
"As hardware becomes more intelligent, the more it becomes crucial to processes and business operations. The XaaS model is what will become more mainstream as different businesses require more bespoke setups between hardware, software and infrastructure, maximising their usage and productivity."
David Warrington: "In a few organisations, my own included, this offering has been available just under different names. We realised the need for more rental-style hardware procurement and this has been further reinforced by COVID. Many organisations require a more flexible approach to hardware as the new normal is still being trialled and strategies are in their infancy in this unchartered time. In this period our clients have absolutely expressed the need for a service that allows a more dynamic approach to hardware supply as their business plans become more certain."
Julian Broster: "Many industries already operate with a HaaS model, from mobile phones to car ownership and manufacturing, but each sector is dependent on the client demand and reason for the change.
"The benefits of SaaS have been clear. The model allow companies to scale rapidly without significant upfront expenditure in equipment or overheads. It also helps businesses fill in knowledge gaps, allowing them to focus on their core offering. For example, a law firm has no reason to be experts in servicing their print equipment.
"We will be ready to embrace XaaS business models when the time is right, knowing that our customers will only reap the benefits."
Martin Roberts: "Yes! Because it comes back to those lower entry barriers. In theory, part of the HaaS model, as it is with software, continuity and security, you are buying processing power you need. When you buy hardware yourself, you could be buying more processing power which you don't need access to.
"The downside to it is, you are getting into the situation where the decision process regarding what you do in a price increase is lost. In the old world, you went out, bought a server and package to do the process for you. You might then hold onto that hardware and software for longer than necessary and not get involved in the upgrade process.
"In a subscription-based world, your choice is gone. You find that out very soon when a large software vendor puts up their pricing substantially. You are more tied into simply accepting, as you are a subscriber to the service. Cancelling and starting from scratch can prove to be more costly. It's really worth taking these factors into account, before committing to a subscription-based model."
Mark Bailey: "At EBM, we often find that potential customers simply want devices that work. Whilst some are wedded to particular brands, the real value of a device is more often in its output. Therefore, the hardware-as-a service model gives us the ability to improve the reliability of that output (through software, servicing, etc.). It also gives us more opportunities to talk with our customers, nurture relationships and grow retention and referral rates. There will always be traditionalists who prefer to simply buy devices and look after them themselves but our experience at EBM shows that HaaS is moving rapidly into the mainstream."
James Pittick: "One of the challenges with moving from a capitalised hardware proposition to an as-a-service model, is the change in financial modelling, where the model for the income and depreciation of the physical asset is evolving, which means a change in the revenue recognition profile for the business. For channel resellers, the other challenge is the sales remuneration in an evolving model that is shifting from upfront capital investment to subscription over time.
"It is therefore evident that hardware as-a-service (HaaS) is not yet as widely utilised as software-as-a-service (SaaS), even though it is highly compatible with its software counterpart. However, it seems likely that this cost-efficient model that eases procurement by offering customers the ability to lease hardware within an MPS will become the norm in the near future."
Stuart Sykes: "In many ways, the print sector has always offered clients subscription-based charging with hardware costs spread over time, service delivery on a usage basis and flexible leasing products offering simple quarterly payments for hardware, software and services.
"The thorny question remains as to how flexible is that flexibility, especially around time commitment from the client and the implications of that for risk and pricing. The sector will re-label these current pricing models as 'subscription' to make it easier to understand for the client. Certain organisations, especially enterprise clients, will demand maximum flexibility during these uncertain post pandemic times as they work out long term implications upon their workplace design and this will increase HaaS, but it is unlikely to be as prevalent as its software equivalent."
Andy Johnson: "The hardware-as-a service (HaaS) model will follow a similar growth trend to SaaS as the benefits it offers to businesses are very similar.
"It can help firms spread the cost of the equipment they procure over low cost monthly payment plans and strengthen network security by ensuring they have the most up-to-date models with new firmware, end-to-end encryption and robust user access. Access to 24/7 technical support also means they can minimise downtime and boost productivity for their employees.
"Such is the demand for HaaS, we launched a managed label service so resellers can offer Brother's specialist Auto-ID systems, as well as third- party hardware, on a monthly payment scheme.
"Both models will play an important role in helping businesses make their technology costs more predictable and simpler to budget for. And there is a real opportunity for resellers to add value and expand revenue streams by consulting with their customers on what SaaS and HaaS can offer."
Dave Prezzano: "HaaS is gaining momentum in the market, and customers are realising the benefit of keeping up with the latest IT innovations while controlling costs. What may cement the mainstream use of HaaS though is the strong sustainability angle, where as-a-service procurement models are facilitating customers in achieving their sustainability goals. For example, HaaS provides more frequent refresh cycles which allows customers to utilise leading technology in energy efficiency and hardware with higher percentages of recycled content and carbon programmes. This supports customers in achieving their carbon neutrality objectives.
"HaaS is not simply a rebrand of leasing, it is a shift in how consumers and businesses consume IT and hardware towards a managed service through a subscription. The convenience of installation services, proactive maintenance, break fix service, and conscious recycling all managed by a provider are highly compelling value propositions for customers."
Original source: https://www.binfo.co.uk/PITR88/42/