As yet another year draws to a close, here's a selection of some of the channel's key industry players' thoughts on what 2023 will hold for the print and IT sectors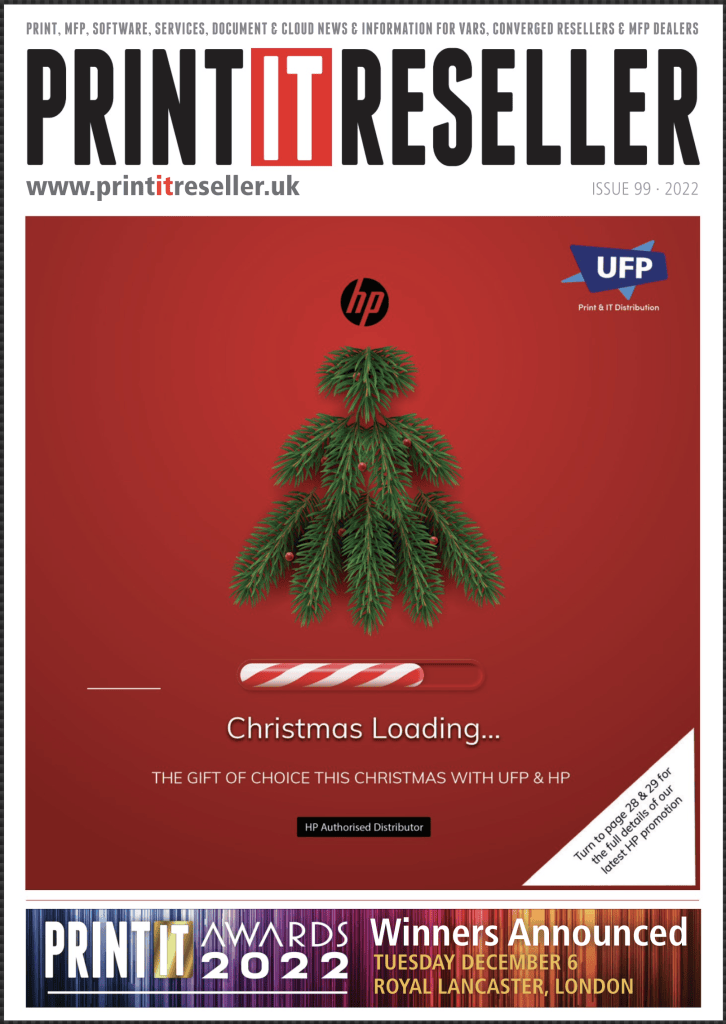 Chris Bates, Business Unit Manager, Print & Supplies, UK,TD SYNNEX:
"I think there will be three main trends in 2023. First, we will continue to see growth in demand for managed print and managed services in general. Second, we'll see customers settle into a pattern in hybrid working. Third, the momentum behind sustainability and moving towards net zero carbon will grow even more.
"All three will present good opportunities for print resellers and MSPs and we'll be ready to help them maximise the potential. We've seen good uptake of our OpenMPS service in 2022 and will be making further enhancements to the programme. These additions will make OpenMPS even more appealing, both for our partners and their end-user customers.
"We also launched our own printer installation and break-fix service options this year. We expect to see good growth with these offerings in 2023. One reason for this is that resellers (and their customers), are finding it difficult to find and hold onto skilled IT workers. It's much easier to hand the responsibility of managing print devices and supplies to a trusted third party.
"Our services portfolio makes it possible for partners to offer a complete offering on printers – from initial sale and installation, through to everyday management and maintenance. That's becoming more important now that we are entering the era of hybrid working.
"Hybrid work patterns should settle down much more over the next few months, and there is no question that most people are going to split their working time between the office and the home. That's going to make managed services more appealing. When the workforce is more distributed, and devices located in peoples' homes as well as the office, it makes sense to use a trusted provider to manage and maintain all devices.
"Sustainability and the acceleration towards net zero carbon will be the third major trend. We expect to see even more interest in printers that have refillable ink cartridges and devices that consume less power. This will increase the sell-out revenue potential and may also lead to more customers wanting to use subscription options like those available through our Tech-as-a-Service (TaaS) offering. That's been especially popular with schools and the public sector, and we can only see that building even more next year.
"From a wider perspective, the channel as a whole will be hoping for more stability throughout 2023, with more predictable product supply and fewer currency fluctuations. We will be ready to support partners and work with them to meet whatever challenges may arise and ensure that they can take every opportunity to grow their print and managed services business." www.TDSYNNEX.com
Phil Madders, Managing Director, PAE Business:
"I ended last year's predictions with the hope that the worst was behind us as we emerged into 2022 with the pandemic in our rear-view mirror (for now). Companies getting used to the post Brexit world and supply chains beginning to improve. A whiff of optimism was in the air, and I thought we would push on into 2022 and embrace the new normal, whatever that looked like.
"It turned out the new normal was hard to spot amidst a European war, resulting in an energy crisis and surging inflation. A government embroiled in a scandal of its own making – 'Partygate', which led to Boris being removed, the government not responding in a timely fashion to the various crises erupting around the place, a period of limbo whist a replacement was found and then the markets reacting to the new regime so badly that interest rates were catapulted to heights not seen for decades, and the UK became a financial basket case over a weekend. To cap it all, as if there wasn't enough to be gloomy about, the Queen passed away sparking a genuinely moving and sincere period of mourning across the UK.
"2022 could go down as the worst year in my entire professional life and at the risk of tempting fate, it is hard to imagine 2023 being worse. So how do I see it panning out?
"Of course, there are longer term trends afoot but organisations like Quocirca are far better placed to advise on them than me. My predictions are based on the questions, requests and problems we help our 650 dealers with on a daily basis and focussed on the UK and Ireland where most of them are based. With that in mind my predictions for 2023 will be as follows:
"Continued consolidation. This is across the whole market. In our space (remote print device management) small players are being bought up by bigger entities as the demands of the market, the technology involved and the resources required mean deeper pockets are required and economies of scale are a necessity not a desirable. Several smaller companies have merged so far this year. Of course, we already went through this in 2019 when Print Audit was acquired by ECI and as result increased the base of devices they managed from 14 to over 20 million globally.
"The same dynamic is continuing in the dealer market. We have seen the larger dealers being as active as ever, but we have also been involved in several of the smaller ones merging to remain competitive. The only cloud on this horizon is the impact of the new world of inflation and interest rates at much higher levels. If money is being borrowed to finance acquisition it has suddenly become much more expensive.
"Cloud is still the future of our channel. What started as conversations 18 months ago is now evolving into proof of concept. It will be the crux of many sales presentations in 2023 as organisations move infrastructure to the cloud. I still think it is a slow burn, but you need to be lighting the fires this year. We all know about hybrid working and mobile workforces but add to that the potential savings on energy alone achieved by removing servers and the challenges of the skills shortages in IT and it becomes very compelling very quickly to simplify the whole process and outsource it to the cloud. If you need convincing ask yourself why Kofax bought Printix and Y Soft acquired EveryonePrint, and Papercut is investing in Hive.
"Document audits are back. We have had more meetings in the last three months advising how to carry out and deliver a document audit than in the past three years put together. I would predict that this will continue into 2023 and the consultative sell will be back. However, unlike previous iterations where it was all about demonstrating that the MFD/P was more cost-effective than the laser, inkjet, pencil…the new audits are looking at document workflow, output, processes and seeking opportunities to digitise, move to the cloud, automate and enable.
"Consultative sales will become the key to success. Speeds and feeds are important but only as part of an integrated offering. If you are a traditional office equipment dealer then you will have noticed the trend of IT resellers turning up as competitors or partners in bids for the printer opportunity. This is because it is linked to an IT project. If you embrace it you could turn up in their manor and eat their lunch, or work with them to provide a broader solution to your customers. However, to find out what your customer needs you need to engage on a broader front than just the device as all companies are trying to do more with less.
"Retrenchment. It could have been driven by the stock shortages, the difficulty in fulfilment and diminishing returns, but we have seen a lot of companies in our space who saw printers as peripheral activity pull out of the market and focus more on their core business. This makes sense given the challenges of the increased complexity of sales not serviced via a web page. I therefore predict that the channel will have less participants, but the same level of devices at the close of 2023, and not purely down to consolidation." www.paebusiness.com
Anthony O'Mahony, Director, Pay As You Go Print:
"Gone are the days of businesses being tied into long-term lease contracts for their printers. In 2023, clients will be looking for more flexible printing options, no contracts and much more transparency from their provider.
"With climate change so high on the agenda, businesses are looking for more sustainable print solutions. In 2023, we predict that organisations will do even more to change their behaviour and set objectives to help them become more environmentally responsible. We're already seeing clients choosing refurbished printers over brand new and recycling toner cartridges more, businesses just want to simply pay for It turned out the new normal was hard to spot amidst a European war, resulting in an energy crisis and surging inflation what they print with no tie-in." https://payasyougoprint.co.uk
Mike Barron, Managing Director, SYNAXON UK:
"Automation, efficiency, and scalability will still be key factors for IT service providers in 2023. Our focus is to provide the tools, technology and support necessary for our partners to become even more competitive, and better meet their customers' needs in an ever changing IT market. Looking at current data, while there is potential for economic recession, we do not see that having a big impact on the IT sector. On the contrary, we're confident that the market will continue to grow – we forecast by around 10 per cent – in 2023 despite continuing challenges with hardware availability and currency fluctuations.
"With services such as SYNAXON Managed Workplace (rental of devices with software, services and support in one bundle), and the high availability of products we provide through to our buying power, we can ensure partners are able to make best use of their existing resources and take advantage of that growth potential. Our focus over the coming year will continue to be on leveraging our Master MSP model and supporting partners in growing their managed IT services, improving efficiency in their procurement processes, and tapping into new business models such as desktop-as-a-service." https://synaxon-services.com/
James Overton, Director,SOS Systems:
"The print sector has seemingly stabilised somewhat following COVID and we are seeing a very healthy pipeline in hardware sales once again. Supply chain issues seem to have eased and in software, the mass exodus from on premise to cloud has driven a demand for more technical expertise and helped to boost service and sales revenues that have been affected by the pandemic. There is still plenty of opportunity in this space which I would expect to continue well into 2023 and future years.
"Businesses that had put printer fleet reviews on hold during the pandemic, now feel they have a better understanding of their office landscape and are pressing ahead with upgrades and software installations and I would also expect this to continue.
"Our business continues to reflect the demands of our clients and we are expecting to add some new software solutions to our portfolio in 2023 to assist with workplace management and cloud workflow applications." www.sossystems.co.uk
Andy Ratcliffe, Managing Director, Key Digital:
"We are experiencing a really pivotal moment in the future of the workplace. Hybrid working is now just considered 'working' and employers are looking at how to make that working time as efficient as possible.
"They will also be looking into optimising their resources, both in terms of office space and talent. This is met at a time where we are facing a global energy crisis and a cost of living crisis.
"It is up to the industry to be responsive to customer needs and take a critical role in their success strategy. We are enabling our clients to ensure that their working arrangements are fit for purpose.
"In the future world of working, the office takes its place as just one aspect of a much bigger picture. Company culture, collaboration, engagement and empowerment are all part of how we work, with increased autonomy taking up the slack as businesses look to streamline processes.
"In 2023, I predict that we will see a huge increase in uptake of our productivity tools, automation services and facilities management platforms. When used in combination, our customers will be able to analyse and manage their resources as well as push employees to work smarter for peak efficiency.
"I am looking forward to 2023, Key Digital is in a really solid position and I cannot wait to watch our teams thrive. It has been another year of listening, learning and developing to build a portfolio that remains relevant to current and future workspaces." www.key-digital.co.uk
Theresa Downes, General Manager – Print Business Unit, Exertis:
"Like many other IT sectors, print wasn't immune to the component shortage last year – this has eased with some manufacturers now, and some suppliers are prioritising certain product ranges and slimming down other ranges to ensure products are catered for in the best possible way. We've also seen some manufacturers changing specifications and removing certain functionality to ensure supply can remain.
"At Exertis, our stock position has increased by 100 per cent since this time last year. We have great allocation for our partners, and we are working closely with our manufacturers to ensure we're getting them availability and prioritisation when it comes to European allocation.
"We are seeing some nervousness in the market about the economic climate. Warranties are being extended from three to five years to ensure that businesses who might not have cashflow can still benefit from hardware leases.
"Small business's costs are also going up and they're wondering whether to replace their equipment, and if they do, they're being more specific about what they're looking for.
"It's difficult to predict the next 12 months, because the assumptions which everyone made even three months ago have changed already due to the economic uncertainty.
"Manufacturers and distributors will be learning what the new normal is, what the new trends and what the new run-rates will be. We're monitoring this new demand closely, but it's difficult at present to predict what customers' behaviours and purchasing habits will be. Exertis is in the best possible position to respond to new landscapes due to our close relationships with both manufacturers and customers.
"We're trying to support current opportunities and monitoring our stock range to ensure it suits the market requirements and trends. We have a symbiotic relationship where we treat our vendors as an extension of our team, and we navigate this environment together. Agility and responsiveness will be key features in our ways of working over the next 12 months as the market unfolds." www.exertis.co.uk
Mark Bailey, Managing Director, EBM Managed Services:
"2023 is going to be a very interesting year for the MPS industry. Geopolitical issues which are affecting every country are whittling down into everyday business. We see this in our own industry, along with macroeconomic conditions created from the unstable government policies affecting market conditions. Hopefully, when this comment is published, we can see some certainty restored to make navigating 2023 that little bit easier. Until then our industry is going to see several issues on the reseller side which will affect customers. I have chosen just a few core thoughts to focus on.
"The first is machines-in-field (MIF) 'equity release'. Throughout 2020/21 MPS resellers struggled to obtain hardware and could not rely on service revenue whilst people were working from home. Companies who were indebted either through pre-pandemic acquisitions or poor balance sheets instructed sales teams to 're-lease' their existing MIF, with no cost to the existing hardware and very little finance settlements involved. This strategy injected a quick cash boost back into their business. Along with these new agreements sales teams often lowered the cost per page, hence lowering future service revenue.
"This sales strategy has now handed the burden to service teams. Service teams must maintain devices which naturally are more expensive due to the costs associated with an aged/legacy MIF (i.e. more breakdowns and higher running costs) whilst trying to keep their own costs below the even-lower cost per page the sales teams have now signed up the customer to. Sales teams have effectively used the service team's contract service revenue they would typically receive over five years to finance their short-term cash grab or 'MIF equity release'. With rising costs everywhere from manufacturers, logistics, consumables, and general inflation, service teams will start to become hard pressed to achieve a profitable return on this MIF. For businesses who chose this option, the consequential effect will now start to rear its head in 2023.
"As service margins tighten, the second thought is that the ever-running acquisition treadmill will continue as acquisition-led companies seek to keep their investment partners happy with more acquisitions providing more MIF to upsell. As there are less and less resellers in the market, desperation will grow which will lead to more risky purchases. Not every purchase will work out to be the right one, causing more damage to the acquirer than financially worthwhile. This will force these types of businesses to turn to organic growth and take an interest in previous customer bases they have purchased. With many of their customers either already re-leased or poorly treated and being ignored they will seek to move away to more ethical resellers. More than ever, ethical business is important to people. The resellers who have stayed true to their ethics will be on the winning side of growth.
"My last thought is that turbulent times will always offer opportunities and growth for dynamic businesses. We are seeing continuing trends in customers seeking one service provider for multiple managed services. An efficient workplace where digitalisation is maximised to get the most out of every asset whilst being cybersecure is critical. Our business is positioned to offer that suite of products to handle this. Staying true to our style, we're super excited to welcome 2023 as another year of company growth and development for our teams." www.ebmltd.co.uk
Alpesh Unalkat, CEO, Aura:
Focus on cost reduction. We expect organisations to take precautionary measures to prepare for an economic slowdown in 2023. However, IT spend will be prioritised and the majority of organisations plan to increase IT budgets in 2023. For print, we think organisations will take the opportunity to right-size print fleets and unlock contracts to drive savings.
"Sustainability. New investments in technology will need to be environmentally sustainable. With print and IT technologies being data-driven and compute-hungry, the environmental costs can sometimes be hidden. Customers and investors are increasingly looking for green credentials, and we will see more of this in 2023. Datacentres and blockchain technology need to become greener, and companies need to ensure they don't waste valuable resources and leadership teams will need to report on progress and be held accountable. From a print perspective, this will mean a more holistic view on where, how and why paper is used and a focus on driving to a paper lite strategy through workflow automation.
"Digital convergence. Post-pandemic transformation is proceeding at pace, the requirements of the modern workplace are undergoing fundamental changes led by the employee experience – people will want to come to the workspace if the workspace provides an enhanced and more productive work experience than being at home. Print, scanning, workflow, AV, space booking, document sharing, digital signage and collaboration tools can't be standalone – they will need to be integrated, intuitive and more intelligent. Print volumes will not recover to pre pandemic levels as the print to digital convergence continues at pace.
"Cloud first. There will be a greater focus for IT departments to move from on-premise print solutions to the cloud or at least a hybrid model. Cloud-based print management services provide more flexibility to scale solutions in line with changes to property and new agile ways of working.
"Cyber security. The global managed print services demand will be driven by the ability to prevent internal data loss and safeguard printers from external cyber-attacks. This still remains an area that is overlooked by many organisations.
"As-a-service. More and more companies are moving to managed services and spend will account for 18 per cent of IT budgets in 2023, up from 15 per cent in 2020. Organisations are consolidating the number of suppliers they work with to enhance end-user experience by developing meaningful relationships with partners that can help integrate technology and user experiences.
"Automation. Increased focus on automation processes to reduce manual labour will maximise the demand for outsourced print management services. Managed print services help to streamline the workflow and speed-up business processes through efficient analysis. This then forms the foundation for organisations to build / link ML and AI processes.
"Diversification. In general, as a result of the above trends we are seeing traditional print providers and print manufacturers trying to expand their services into a wider variety of offerings such as security, cloud, AV and IT services. We expect to see more of this as the sector strives to keep up with customer requirements." www.aurafutures.com
Craig Pratt, Regional Sales Director, CMYK:
"As we see continuing consolidation of businesses in the print and IT sector, this will present a fantastic opportunity for small to mid-sized organisations to expand and grow market share. I see the well-structured, well-organised and well-led mid-sized organisations being able to capitalise on their nimbleness and ability to deliver services. So, I think we'll see a large amount of organic, and sustainable growth in the smaller and mid-sized resellers.
"Due to the change in working practices, the adoption of cloud services and agile business technologies over recent years, the print marketplace has remained pretty static. In order to secure new business in this area we need to be doing something that differentiates ourselves from our peers, focus on delivering an unrivalled service, providing an outstanding client experience, and channelling resources into support functions and brilliant people. That's why I believe CMYK have the winning ingredient!
"I don't see the current marketplace changing during 2023, so whilst there's still demand for print services, and businesses want to procure these services, we need to make sure that engagement is a simple, transparent, and straightforward process. For those of us who sit in the managed IT services space, the use of flexible contracts and subscription services is the norm, lengthy and restrictive contracts are becoming a thing of the past. To ensure longevity in the managed print services sector, I believe we need to embrace a similar offering. Just look at the world of consumer sales, it's never been easier or simpler to purchase a product or service and provide the consumer with a flexible method of transaction.
"2022 has been extremely productive and positive for CMYK, with significant growth in our managed IT services and communications offerings. As we enter 2023, we need to remain positive, we've all seen the current press coverage on the economic financial outlook for next year, which potentially could mean further change and the possibility of businesses needing to 're-size' to meet that change, whichever way you wish to look at this it's an OPPORTUNITY! We'll see, but regardless of opinion at CMYK we remain focused, hugely positive and can't wait to see how next year plays out." www.cmyk-digital.co.uk
Original source: https://www.binfo.co.uk/PITR99/46/