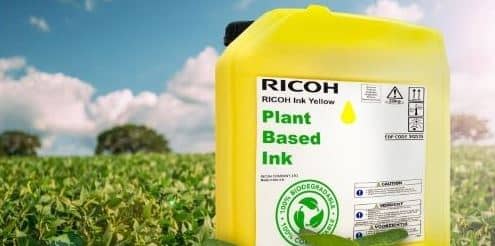 Ricoh has formulated a new plant-based inkjet ink which it claims is a first for mainstream print applications.
The ink uses plant oil and does not require the use of water, meaning no biocides are required. 
Ricoh said it had a number of other advantages, including low ink consumption because "the same optical density is achievable using 50% less ink".
It is also quick-drying, odour-free, does not use monomers – resulting in improved compatibility for food use – and is biodegradable.
The ink does not require heat for fixing and drying.
Ricoh described rub resistance and set-off performance as "excellent" when printing onto corrugated brown and white boards, as well as cartonboard.
Ricoh developed the new formulation after collaborating with German manufacturer Olbrich on an oil-based ink for decor applications.
Graham Kennedy, Ricoh Europe director for industrial printing at its graphic communications business, said that brand owners and printer manufacturers were increasingly focused on reducing their environmental impact, and applying sustainable practices "wherever possible".
"With our new plant-based ink they can seamlessly introduce positive changes that make a big difference without impacting their high quality printed results," he said.
"The plant oil is soybean-based and the price will of course be competitive, taking into consideration the cost-saving benefits for 'no drying', reduced CO2 emissions and reduced ink laydown," he added.
The new ink is also suitable for de-inking and is available immediately across EMEA. 
Separately, Ricoh has been successfully recertified to the Customer Service Excellence (CSE) accreditation. The CSE scheme evaluates a company's capability in "setting and delivering against challenging targets for customer-focused service delivery". Ricoh UK exceeded the requirements of the CSE accreditation and accomplished the 'Compliant Plus' classification.