With such an array of document management tools and solutions available on the market, it can be overwhelming to choose between them when taking into account their use cases, price ranges and integrations.
Here we look at two front-runners and assess their applications and best use cases.
What is DocuWare?

DocuWare is a document management and workflow software platform designed to automate manual tasks and reduce dependence on paper-based documents.
Founded in Germany and now used in almost every country in the world, DocuWare is widely recognised as a market leader for cloud-based software.
The DocuWare platform is used to capture, route and securely archive business information. Once archived, documents can be tracked for opens and modifications by person, for full audit traceability. Documents can also be searched across the full repository by individual document contents.
What is SharePoint?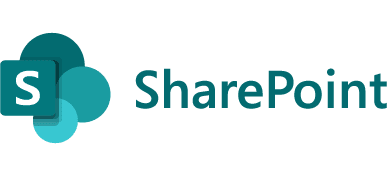 SharePoint is a web-based platform used primarily as a document management system that integrates natively with Microsoft Office.
It is commonly used as a collaboration tool enabling remote or hybrid working across PCs, Macs, and mobile devices.
While Microsoft is focusing much of its development roadmap on SharePoint Online, it will continue to release on-premises versions as customers may have compliance requirements meaning certain data has to remain on-premises or because they cannot migrate all of their data to the cloud.
DocuWare vs SharePoint
DocuWare is often set up to be tailored to your individual requirements from day one. It can be implemented as a standalone solution or to operate alongside existing applications and integrate with other systems such as finance packages, HR or ERP systems.
The main aim of DocuWare is to improve processes by streamlining them and automating repetitive or labour-intensive tasks while providing secure archiving and retrieval functionality through Optical Character Recognition (OCR) to make storing and finding documents much easier.
SharePoint, meanwhile, starts with a basic platform that can be used with multiple add-ons as needed to meet the specific needs of a business. However, it will take some development and third-party integrations to be used as a complex document management tool, but can be used as a centralised repository.
While SharePoint does offer some data capture capabilities, however, this is only possible through a separate application tool.
SharePoint benefits from its collaborative use cases with users in organisations as well as its software compatibilities. Many businesses will already be taking advantage of Microsoft applications, so it opens up opportunities for expansion inside the Office and 365 suites.
DocuWare & SharePoint Integration
The best of both worlds can be achieved through a DocuWare and SharePoint integration strategy.
If Microsoft applications are already being used to perform business functions, DocuWare and SharePoint can be integrated to maximise functionality and productivity.
SharePoint will allow employees to effectively collaborate on projects, creating digital documents as they go. These will then be stored in DocuWare without any employee involvement, automatically indexed and then stored securely and compliantly.
A search of documents within SharePoint will then provide fully indexed results for fast retrievability.
Once in DocuWare, digital workflows can be triggered, with tasks assigned to the relevant user, audit trail availability and approval processes in place.
For more information about applying a DocuWare and SharePoint integration strategy to your business, get in touch with our automation team – 01282 479466