Commercial & Production Print
The decline in litho printing has seen a surge in the number of digitally printed pages, and this will continue for many years to come. This fast changing environment means print departments and commercial printers require flexibile, powerful solutions that are capable of responding to changing levels of demand.
Key Digital have many years of experience recommending, implementing and supporting the needs of production print customers allowing them to grow and develop their business through providing the best possible solution.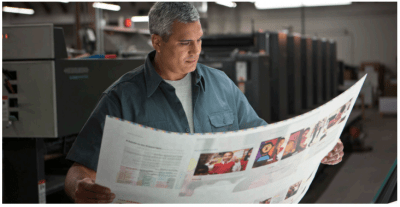 Ricoh's range of high-speed, high-capacity print presses offers robust solutions for commercial printers and in-house departments alike. Their energy-efficient range provides superior image quality and clever features for specialised tasks.
Xerox's sheet-fed digital printing presses are ideal for graphic communications and commercial print providers, perfect for high-speed, high-volume printing applications, including publishing, transaction printing, direct mail, packaging and photo publishing.
Continuous Feed & Inkjet Presses


To help you visualise the economics of a Ricoh Inkjet Press, we will guide you through ROI estimates based on current and projected workflows. We take a deliberate, assessment-minded approach to ensure that this system is truly the right fit for your operations before you allocate budget.
Commercial Photo Printers


Consisting of two base models, the SureLab D-Series offers a variety of combinations for different production needs. The modular set up supports everything from small-scale desktop production (via a kiosk on the shop floor) to high-scale production with a minilab. Whether self-service, or serviced from behind the counter, you can implement the solutions to suit.
Textile & Fabric Printers


Digital Fabric Printing is the future of fashion. And Epson is at the forefront of that revolution. Digital fabric printing provides fashion designers the tools they need to experiment and explore, while allowing them to create their collections faster and more efficiently than ever. With Epson's digital fabric printers, fashion designers can get to work creating trends - instead of chasing them.
Direct-to-Garment Printers


The Epson SureColor Direct-to-Garment range offers a complete DTG package for designing and printing t-shirts, polo shirts, tote bags and other fabric items.


Ready for a faster and easier print-to-garment process? Ricoh's Direct to Garment (DTG) printers are ideal for promotional printing on items like T-shirts, cloth bags, hoodies, sweatshirts and socks. Their digital technology saves you time, allowing you to produce more and focus on mass customisation.
Speak to an expert: 01282 479466