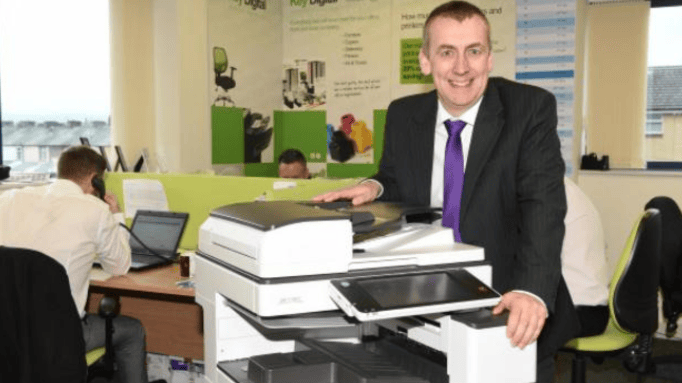 Burnley Bondholder Key Digital, a growing photocopier and print solutions supplier has recruited two full-time and two part-time staff to handle additional growth generated after receiving growth mentoring through Boost Business Lancashire.
After being referred to Boost by the Burnley Council Business Support team, MD Andy Ratcliffe was paired with Paul Aisthorpe, a business growth mentor at Community & Business Partners which delivers the programme.
Paul had the experience and skills to support the mentoring process and was also able to help Andy to formulate an effective business development plan.
Through the mentoring process it was recognised that the firm was poised for further expansion. However, although Managing Director Andy Ratcliffe's hands-on leadership had been vital, he needed to step back and develop a strategy for the next phase of growth.
Andy commented: "Paul's support has been instrumental in giving the team clarity and remaining focused on the key goals of the company. It is no coincidence that our fast period of growth has followed from working with him.
"It was crucial to have a sounding board – someone who had experienced business growth and all the challenges that come with this. Also, I needed someone who could ask the important questions to ensure the strategy I came up with would achieve the right outcomes."
The business planning tools Paul demonstrated to Andy became an important part of the process and ensured the focus on key objectives. These planning tools are something Andy is continuing to use to drive ongoing expansion.
Jane Houghton-Fenning, business development director at Community & Business Partners, added: 'Asking the right questions is the key to effective mentoring support as business owners find the answers during their exploratory discussions.
"This leads to new understanding and eventually forms the vital few actions in their growth plans that make a huge difference to business performance. This is one such case and Key Digital has certainly demonstrated the impact through its improved growth."
Boost Business Lancashire is the £7.2m Lancashire Business Growth Hub, offering free and part-funded business support to ambitious and growing businesses.
Boost is delivered by Lancashire County Council and the Lancashire Enterprise Partnership, and supported by money from the European Regional Development Fund (ERDF). Boost has supported more than 2,800 businesses and created more than 900 jobs since it launched in July 2013.
Original source: https://issuu.com/burnleygraphics/docs/r_pp_inbusinessburnley_issue_11_110_6a7e6522263b1a