Expand your product range with additional inkset options to reach new markets
The SC-F10000H is built for consistency, reliability, and high-quality throughput. The flexibility of output allows for a diverse range of applications (fashion, sportswear, home textiles and soft signage). The printer features CMYK ink configuration, plus the addition of one of two inksets: fluorescent yellow and fluorescent pink, or light cyan and light magenta.
Raise your productivity levels
High productivity requires continuous operation when you need it. Every component of this dye-sub printer has been specially designed, not only to enhance the user experience, but to help increase output, improve efficiency and lower costs. The SC-F10000H features Epson's bulk ink solution, giving you full flexibility with dual 3-litre or 10-litre CMYK ink packs, or a mixture of both sizes. The system incorporates a 'hot-swap' function, that's designed to keep you running without interruption.
Deliver remarkable levels of quality and consistency
The six large PrecisionCore MicroTFP printheads feature 19,200 nozzles and, with their 4.7-inch width, ensure a large printing surface. With Epson Precision Dot Technology built-in, the SC-F10000H blends three dedicated technologies – Halftone, LUT and Micro Weave – to deliver a superior print finish. Further support is delivered through a choice of EMX files, which select profile and machine settings to achieve the best output.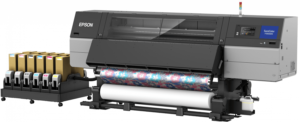 Built-in reliability
Set your next job in motion and let Epson's renowned reliability take the strain. With a variety of controls in place to ensure accuracy, maintain media feed and make small adjustments automatically, exactly when needed, large and urgent production runs become significantly less stressful. These benefits are delivered by the following technologies: Advanced Auto Tension Control (Ad-ATC) for accurate and stable media feeding even on thin media, auto-adjustment technology (including an integrated RGB camera), and supporting software to monitor printer performance, even remotely. The robust, industrial build quality of the SC-F10000H also incorporates operator-replaceable parts to increase uptime and improve your productivity.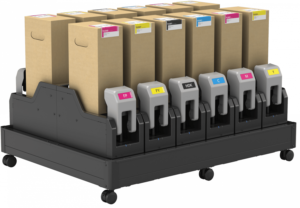 Print at high speed
Able to deliver true production at up to 246m2/hr, the SC-F10000H exceeds expectations when it comes to high-speed printing, thanks to the PrecisionCore MicroTFP printhead and highly efficient dryer, even with lightweight papers.
Straightforward, user-friendly operation
The 9-inch LCD touch panel provides you with all the information and control you need, right at your fingertips. A progress bar displays the job status and time remaining, while other facts and figures, such as temperature and humidity in the operating environment, are also available, along with critical information about supplies and parts consumption. Epson's synchronised media feeding and take-up operation can be performed with one switch, making this task effortless too.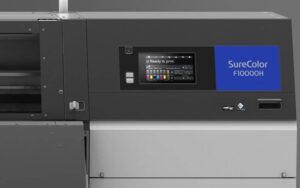 Everything working in harmony
Epson manufactures all the components for the SC-F10000H, including printheads, inks and software, in order to reach the consistent quality levels that you demand.
Key Features
Bulk ink solution:
10-litre or 3-litre ink boxes supported by 'hot-swap' function
Fluorescent or light ink printing:
Genuine fluorescent yellow and pink ink or light cyan and magenta
Epson Precision Dot Technology:
Three dedicated dye-sub technologies (Halftone, LUT and Micro Weave)
High-speed printing:
Up to 246m2/hr
The complete Epson solution:
Including printheads, ink, firmware and software