Today's office workplace is a digital workplace, where businesses and individuals are empowered to work smarter through utilising innovative technology. Smart buildings are no longer the future - they are expected today.
Ricoh Spaces is a modular platform that is designed to drive efficiencies in your business by creating a truly connected, smart workplace, solving your problems today, whilst anticipating the needs of tomorrow.
By 2025, the global labour force is estimated to reach approximately 3.69 billion people, with Generation X accounting for over one-quarter and millennials making up almost half of the workforce. Both cohorts are technologically inclined, globally focused, and highly educated. The lifestyle and experience gained may be valued over pay when it comes to talent retention in the future. The preference for a work-life balance will become king in organisations as we head into the new digital age.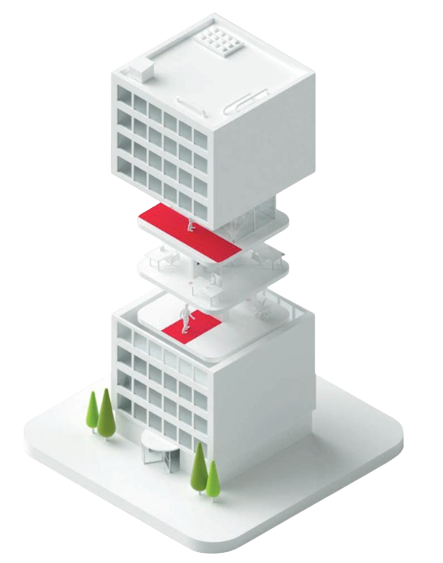 Ricoh Spaces brings together people, places and experiences with innovative technology and user-centric design. Being modular, Ricoh Spaces is also scalable and can evolve as your business needs do.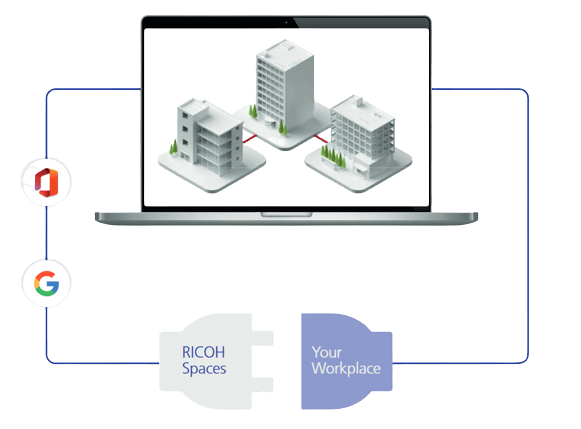 "Ricoh Spaces is a comprehensive workplace enhancement platform beyond desk booking, meaning we not have inbuilt potential to support many projects, from using IoT sensors to room booking"
If the needs of your business and employees are changing faster than your workplace can keep up with, you're not alone.
Ricoh Spaces is a cloud-hosted workplace enhancement platform designed to optimise your business with areas such as desk bookings, space bookings, IoT, wayfinding, workplace insights and more, taking you on a cost-effective and flexible journey towards a truly connected workplace.
Easy to implement
Getting started couldn't be easier. Every module in the Ricoh Spaces suite comes with a clear deployment plan and access to comprehensive training materials. This innovative technology will allow your people to spend time on the tasks that matter and ensure they have the right environment to succeed.
Meeting rooms are empty 50% of the time
89% of employees state that the office environment could make the biggest improvement to productivity in the workplace, followed by their workstation
74% of executives are pleased with the positive returns on their workplace investments in the last 2 years
Request a demo or free trial
Using the Ricoh Spaces Platform
Ricoh Spaces creates efficiencies by connecting multiple business touchpoints through our available modules. It integrates directly with your Office 365 calendar, utilising your existing AD and allowing for secure Microsoft login.
Ricoh Spaces Modules include
Visual Floor Plans
Bring your workplace to life with interactive digital floor plans enabling highly visual, seamless booking and management of desks, rooms and spaces. Display on any screen to put your visitors at ease and give them a frictionless journey through your office, ensuring that they leave with a positive experience of your brand. Integrate with IoT to provide real-time availability at a glance.
Fully customisable
Interactive desk, room and space booking
Enhanced with IoT
Display on any screen with digital signage
Desk Booking
Simple yet powerful desk booking, policies & assignment, providing you with a greater level of control of your workplace with the flexibility to adapt as the needs of your business change. Whether you hot desk, fixed desk or a combination of both, RICOH Spaces can provide clear actionable insights and drive efficiencies for your desk space.
Desk assignment
Visual floor plan booking
Book on web & mobile
Visitor desk booking
Track & Trace analytics
Room & Space Booking
Effortless booking wherever you are with full web schedule view, interactive floor plan, mobile application and room panel options. With seamless integrations to the wider RICOH Spaces platform, managing your meeting becomes simple and wasted time is reduced. It's not just meeting rooms that benefit, other spaces such as public spaces or collaboration areas can also be managed and integrated into the platform.
Integrates with O365 for calendar sync
Full Room Schedule View and Mobile booking
Room Panel Options
Pre-book visitors in advance
Request services
Workplace Automation
Create real efficiency in your business with workplace automation. Choose from a range of triggers such as "number of people in a space" and actions such as "send email" to automatically detect, manage and inform your business. With a range of integrations available and an ever-evolving roadmap, the possibilities are endless.
Build your own automation
Enhance location policies and service requests
Detect, manage and inform your business
Visitor Management
Make a great first impression, increase security and improve your employees' productivity with RICOH Spaces Visitor Management. With the freedom to customise your sign in experience, you can control who enters your building, what data you collect from them and the experience they receive. Say goodbye to manual processes and the hassle of maintaining paper-based logs with our easy to use interface, pre-book and instant host notification features.
Automated host notification
Configure your own sign-in display
Emergency management with a downloadable offline list
Pre-book visitors for touchless sign-in
Analytics
Feel empowered to make data-driven decisions with our world of workplace insights. Data across all the different modules are streamed here all the time, providing you with powerful insights across your business. View utilisation statistics on your desks, rooms and spaces to understand how your workplace is being utilised and gain key insights into meeting room efficiency.
A suite of reporting available
Desk Utilisation and trends
Room and Space Utilisation and trends
Enhanced with IoT for real-time data
Internet of Things
Add the latest IoT sensor technology to your business to gain detailed, real-time data about your spaces. The data is integrated directly into your workplace reporting providing insights such as comparisons of booked vs actual trends and trends over time. There is a huge range of possibilities and we can tailor them to your needs.
Real-time visibility of your workplace
Integrates with floor plans for people count and live availability of spaces
Compare booked vs actual data for true insights
IoT-driven policies such as auto-cancel unoccupied meeting
Service Requests
Flexible service requests to streamline your business processes. Create and manage service requests, decide what information you capture and which options are available when requested. Automated notifications to service request managers reduce wasted time and enables effortless management through to completion directly in the platform. Request lunch, travel, drinks, cleaning and more.
Unlimited custom-built service requests
Assign and restrict services to particular spaces
Complete requests on phone & web
Integration options with third-party ticket management systems such as ServiceNow
Digital Signage
Cloud-based digital signage solution that lets you deliver meaningful messaging from your RICOH Spaces and internal communications, to your digital screens. Ensuring you can send the right message, at the right time, to your employees and offices everywhere.
Any screen, anywhere
Over 60+ apps to use
Schedule content dynamically
Utilise almost any media player